Clergy Transition
Update: April 18, 2023

Dear Friends,
I am delighted to share with you that the Rev. Charles Lane Cowen has accepted the call to be the next Priest-in-Charge at St. Andrew's. The discernment of the Priest-in-Charge position has been a nearly 8-month, mutual process of our Discernment Committee and the Vestry, along with Canon Hoffman and Bishop Haynes. This team was thorough, diligent and thoughtful in their review of candidates, with each member at every level of the process offering honest, open assessment and feedback. Our decision to call the Rev. Cowen was based on hours upon hours of comprehensive research, critical dialogue and prayerful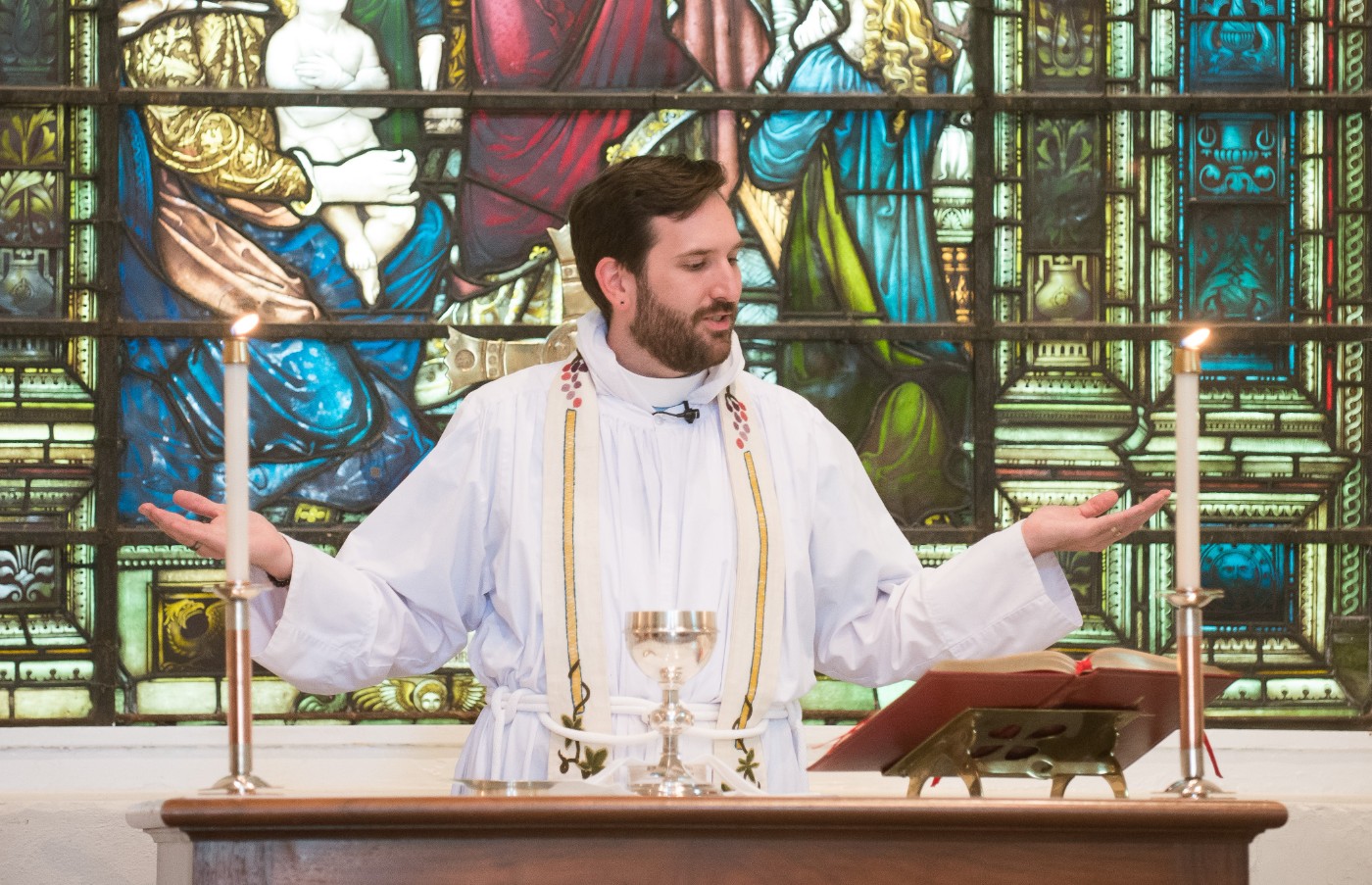 reflection.
The Rev. Cowen impressed us with his warmth, intelligence, energy and dedication to the needs of his parishioners, as well as the community at-large. He currently serves as the Associate Rector at Trinity Episcopal Parish in Wilmington, Delaware, and holds degrees from the University of Dallas and the Seminary of the Southwest. We are so excited to welcome him, and his husband Mitchell, to St. Andrew's at the beginning of July.
St. Andrew's has been stabilized and nourished during this time of transition and discernment by the Rev. Stan Sawyer, our supply priest, and the Rev. Connie Jones, our priest associate. We are so grateful for their service to us and wise counsel during this time. Stan's last Sunday with us will be June 11 and we will certainly miss his grace, good humor and calming presence. Plans are underway for a thank you and farewell gathering for Stan and his wife Linda, so stay tuned for more details as they are finalized. Of course, we could never find enough words to describe how much we appreciate Connie and her unwavering support of all things St. Andrew's, and we will continue to benefit from her gifts and guidance into this new chapter.
This announcement marks a joyful day in the life of our church and we are truly excited to forge this new path together with all of you.
Faithfully,
Jerry Butler, Senior Warden
With Vestry Members:
Hunter Costas, Dorothy Ballard, Robin Brady, Kristan Burch, Georg Dahl, Sarah Deaver, Sarah Frauenzimmer, Charlie Hinsch, JJ Jacobson, Beth Lloyd, Caswell Richardson, Paul Sayegh, Jackie Scott, and Rob Tobin
-----------------------------------------------------------------------------------------------------

In August 2022, the Rev. John D. Rohrs, Rector, and the Rev. Andie Wigodsky Rohrs, Associate Rector, concluded their time at St. Andrew's after 13 wonderful years. St. Andrew's currently is in a period of discernment and has begun receiving candidate names in the search for its next clergy leader.

With the support of the Diocese of Southern Virginia, our parish profile has been posted by the Office of Transition Ministry for review by interested clergy. The full text of our profile, which was developed by the Vestry with input from the congregation, appears below. We believe it to be an accurate and valuable reflection of how St. Andrew's is viewed by its leaders and members.

1. Describe a moment in your worshiping community's recent ministry which you recognize as one of success and fulfillment.

An unexpectedly rewarding season in the life of St. Andrew's came during these last three years of the COVID-19 pandemic. One moment our congregation was planning for a full spring of activities, and the next, we were locking the doors, with no sense of when we would return. While the building went dark in March of 2020, the ministry of St. Andrew's came to life in new and creative ways.
Like the rest of the world, we quickly learned how to use Zoom which allowed meetings, small groups, and even Sunday school and youth group to continue. We pivoted to an abbreviated worship service on YouTube, editing together clips of the liturgy being read with videos of lay readers reading in their backyards and living rooms, and ministers giving homilies in their empty offices. When it was deemed safe, we transitioned from pre-recordings to live streams of the services in an empty sanctuary. We introduced Church on the Lawn, allowing parish members to pre-register and bring lawn chairs to carefully staked out, socially-distanced spots across the front lawn of the church on Sunday afternoons. Harper Bathel, our Director of Children's and Youth Ministry, created take-home kits to help guide families through celebrating important seasons in the church while also finding creative ways to make Zoom Sunday school fun for children.

As a church, we worked to maintain some favorite traditions in a pandemic-safe way: from masked-drive through ashes during Lent and socially-distanced flowering of the cross at Easter; from blessing backpacks through car windows in the autumn to editing together a lessons and carols service to be enjoyed at home. Even with the considerable obstacle of being apart, creativity and passion within the church family flourished.

In the midst of all of this, safety was always the highest priority, and all decisions were made in consultation with a team of doctors and in accordance with the mandates laid out by the diocese. Our vestry and clergy maintained a consistent, clear line of communication with parishioners about our COVID protocols and the reasons for them, which engendered trust throughout the congregation.

When vaccines became available, clergy and parishioners alike worked together to ensure older and higher risk members of our church family were able to get their vaccines as soon as possible. If anyone heard of a site that had vaccines, they would eagerly share that information with the rector and associate rector, knowing that there would always be someone in the St. Andrew's family who needed this information.

Perhaps the greatest measure of how the church managed through this time is the simple fact that there was still a strong and vibrant community to gather back together once it was deemed safe to do so. While we had been apart, we did not feel disconnected.

2. Describe your liturgical style and practice. If your community provides more than one type of worship service, please describe all.

St. Andrew's currently holds two Sunday morning services, at 8:00 am and 10:15 am. As of September 2021, both services now follow the Holy Eucharist Rite II from the Book of Common Prayer. The 8:00 am service is more quiet and contemplative, while the 10:15 am service features sacred music with the organ and choir. Stephen Leist, our Director of Music Ministry, leads a small but skilled choir in the style of traditional Anglican sacred music. The 10:15 am service also features special musical offerings including the handbell choir and bluegrass music performed by the Gospel Lights once a month. The 8:00 am service traditionally has one lay reader, and the 10:15 am service utilizes a lay reader, a chalicer, and an enthusiastic team of young acolytes. We began broadcasting the 10:15 am service via the church's YouTube channel during the pandemic and have continued this practice, even after resuming in-person services.

Our liturgy aims to combine a joyful, welcoming tone within a traditional format and setting. Children are welcome and encouraged to participate in all services. We offer nursery care throughout the year for infants and children under four. Children aged four through ten are invited to participate in Children's Chapel during the first three-quarters of the 10:15 am service. These children rejoin Worship during The Peace, in time to celebrate communion with their families. Prior to the pandemic, the youngest children gave a blessing before Children's Chapel, while others helped during the offering and brought the elements to the altar for communion. (A tradition we hope can return soon.)

Throughout the year, St. Andrew's holds several special services, including an All Saint's Evensong service, an Epiphany Feast of Lights service; and the treasured Christmas pageant, narrated by the serving rector and performed by the children of St. Andrew's.

3. How do you practice incorporating others in ministry?

St. Andrew's has the good fortune of having a robust staff, including a Rector, an Associate Rector, a full-time Director of Children's and Youth Ministry, a Parish Administrator, a Facilities Administrator, and a part-time bookkeeper. The heart of the church, however, is our active and dedicated volunteers.

On Sunday morning, a visitor to St. Andrew's will be greeted at the door by a member from our greeter ministry. Nursery volunteers and Children's Chapel volunteers care for the youngest members of our church during the service, while an ever-growing group of lay readers and chalicers, several teams of youth acolytes, and a full choir assist in worship.

Between services each Sunday, coffee is served in White Hall, while the Adult Forum discusses a variety of topics related to faith in the auditorium. At the end of the 10:15 am service, members of the church take turns hosting coffee hour in White Hall, while members of the Altar Guild and the Brass Polishers quietly prepare the altar for the next week. Members of the Flower Guild and flower delivery volunteers take turns breaking down the altar flowers into smaller bouquets to deliver to members of the community that might be in need of encouragement or support. Trained Eucharistic Visitors take communion to members of the church who are unable to attend Sunday services. On special Sundays, the St. Andrew's Breakfast Brigade can be found bustling around the kitchen, preparing meals to be shared in White Hall between services.

During the week, members of the Pastoral Care team deliver prayer shawls and meals, and write cards to parishioners in need of care.
Back at the church, you will regularly find members cooking meals for individuals affected by HIV/AIDS, making sandwiches for the sandwich ministry, or hosting a Red Cross Blood Drive. Outside of the church building, St. Andrew's members value a tradition of hospitality, regularly opening their homes to host Women of the Way book study groups, Newcomers Brunches, and Stewardship gatherings.

Even as our church enters this season of transition between rectors, these ministries continue on, thanks to the work of the volunteers at St. Andrew's.

4. As a worshiping community, how do you care for your spiritual, emotional and physical well-being?

St. Andrew's hosts many opportunities for spiritual and emotional development: AA meetings, spiritual yoga, and a spiritual director, who is a parishioner and has an office in the church. A centering prayer group met at St. Andrew's at 6:30 am on Wednesdays for many years, and has transitioned to meeting on Zoom through the pandemic years. An additional centering prayer group, sponsored by two parishes, meets on Zoom on Sunday afternoons. Women can engage in spiritual and emotional enrichment by participating in Women of the Way book studies and 2 or 3 Fellowship. The Men's Fellowship group offers a spiritual community for men in the parish.

St. Andrew's has a robust and engaged Pastoral Care ministry to support our church family through the highs and lows of life. The card ministry sends cards for graduation, births, deaths, illnesses, and when we are thinking about someone going through a tough time. Each week, the altar flowers are remade into smaller arrangements and we deliver them to members of the parish in need of a lift. At the holidays, we bring small gifts to those that cannot attend church.

Sometimes, ministry is as simple as feeding people, so we have a group of people who make meals and freeze meals that are ready to be delivered to those dealing with a death in the family, a new addition, or a medical issue.

St. Andrew's continues to offer services at Harbor's Edge, the nearby retirement community, and with the conditions of the pandemic improving, we intend to bring back our Eucharistic Visitor ministry to further meet the needs of those who cannot attend worship services. We learned through the pandemic how maintaining an online presence allowed parishioners who could not attend in-person services to remain connected to the community.

We do, of course, depend on the clergy to care for parishioners' spiritual needs in times of crisis, but we have also appreciated their skill of identifying ongoing needs and working with our trained lay people to provide appropriate support, including visiting members who are home or institution-bound (when permitted), or in other situations that require additional attention.
Parish e-mails of Prayers and Thanksgiving help mark moments of joy and sorrow in the lives of parishioners, helping us to know when church families may be celebrating or mourning. In times of shocking or heartbreaking current events, our previous rector routinely sent out e-mails to the parish, offering a Biblical perspective to help process these events. In times where we might ask "what now?" St. Andrew's clergy and community wants to ensure that you don't have to face these moments alone.

5. Describe your worshiping community's involvement in either the wider Church or geographical region.

At St. Andrew's, we call ourselves a neighborhood church with a heart for the world. This view is reflected both in how we participate in our neighborhood here in Norfolk and beyond. Loving our neighbors is something that St. Andrew's does well. Last year, a three-alarm fire broke out overnight in an apartment building a block away from the church. By early morning, St. Andrew's was already circulating fliers among the displaced residents, inviting them to our parish hall for coffee and breakfast, along with a quiet place to collect their thoughts, charge their phones, and meet with Red Cross representatives. Following the immediate crisis, the church donated to a fund for the victims started by our neighborhood civic league.

Every month, we partner with local churches in Laundry Love, providing funds and detergent at a nearby laundromat to ensure local unhoused and low-income residents can wash their clothes. Until the program was discontinued in the pandemic, St. Andrew's took a week to host Norfolk Emergency Shelter Team (NEST) at the church, providing safe overnight housing and meals to unhoused individuals from across the city. The work of NEST has recently been taken over by the Urban Renewal Center (URC) a local organization focused on addressing housing issues, racial inequities, and caring for at-risk youth in the greater Hampton Roads area. URC is one of the many local organizations that St. Andrew's financially supporters.

St. Andrew's provides financial support to the Backpack program at the nearby elementary school, helping to provide bags of food for the weekend for students at risk of food insecurity twice a month. The church also supports ministries that bring cooked meals to locals affected by AIDS and HIV. We support the Episcopal student fellowship at the Canterbury Center at Old Dominion University by providing meals, advising, and financial support throughout the school year, as well. St. Andrew's hosts an annual Christmas party for the Mission of the Holy Spirit, a long-standing diocesan group that ministers to at-risk youth and their families.

A newer passion project for St. Andrew's is Mentally Healthy Norfolk, an organization led by The Brock Institute at Eastern Virginia Medical School (EVMS). This initiative brings together community organizations seeking to create safe spaces where people feel ready and able to seek mental health care they need and a stigma free community. As part of our commitment to mental health, we also make financial contributions to the Sarah Michelle Peterson Foundation and the Chas Foundation, two local mental health organizations.

Beyond the city of Norfolk, St. Andrew's participates every year in Rise Against Hunger, packing 10,000 bags of food that are shipped to hungry people around the world. The church also partners with Outreach Africa: The Lost Boys Foundation to provide education and health support to Sundanese refugees. Additionally, parishioners are active in several interfaith organizations focused on racial reconciliation within our city, state, and nation.

6. How do you engage in pastoral care for those beyond your worshiping community?

As mentioned above, St. Andrew's has a long history of looking to the needs beyond our immediate community and stepping into the gap when there is a need. During the early years of the AIDS crisis, St. Andrew's reached out to the local LGBTQ community. Long-time member Llew Roberts and Charles Joy, the rector at the time, worked with members of the parish to organize nursing care and meal delivery for individuals and families who were suffering from AIDS and HIV. This effort led to the first AIDS care organization in the Hampton Roads area. Our advocacy then is a big part of why St. Andrew's has continued to have a vibrant and committed LGBTQ population today.

Over the years we have welcomed refugee families from South Sudan and Syria, supporting them as they have grown into active and engaged members of the church.

The church routinely partners with area churches to address the needs of our neighbors in the city, whether it is providing clean clothes through Laundry Love, hosting a blood drive, donating to area ministries, or working together on anti-racism initiatives.

7. Tell about a ministry that your worshiping community has initiated in the past five years. Who can be contacted about this?

An exciting new undertaking at St. Andrew's is our Matthew 25 Ministry. This new framework orients our outreach ministries around a common theme: the acts of mercy identified in Matthew 25: 35-40, and represented in the stained-glass windows of our church. The goal of this organizing principle is to encourage participation and increase visibility for all of the ministries we support by focusing on these themes at designated times throughout the year and organizing events and activities in support of them. As is the case with so many programs that began in 2020, the pandemic was a significant obstacle to event planning and themed outreach Sundays, but as we find our "new normal," we look forward to developing the Matthew 25 Ministry further.

This summer, St. Andrew's received an unexpected, substantial bequest from our long-time handyman, Jack Christiansen. Jack did not regularly attend worship at St. Andrew's, but he felt welcomed here. Since he did not specify how to use his gift, we thought the best way to honor his memory was to use it to care for others. Jack's bequest is already providing a scholarship fund for children at West Ghent School, the preschool co-located with the church, and will help fund the work of the Matthew 25 Ministry for years to come. (Questions about this ministry should be directed to the Outreach Committee.)

As we look to 2023, we will begin a new round of another newer ministry, the Sacred Ground discussion series. This round will be led by members Ryan and Melissa Reese. St. Andrew's last explored Sacred Ground before the pandemic, and it proved to be a fruitful and challenging opportunity for our community to discuss our nation's history of racism, and our role in it as believers in Christ.

8. How are you preparing yourselves for the Church of the future?

It is not lost on us that St. Andrew's is a bit of an anomaly in its health and vitality. Over the last decade, the average Episcopal church has declined in membership and giving by 20-25 percent. In contrast, St. Andrew's has increased in both of these areas by roughly 50 percent. We believe that a big piece of this growth can be attributed to a willingness to address the uncomfortable issues of the day and reflect on the role our faith plays in navigating these dilemmas. Additionally, the welcoming atmosphere at St. Andrew's has provided a refuge for many who have felt wounded by other faith traditions, or frustrated by their church's failure to speak out against injustices and inequalities. We believe that our willingness to address our place as followers of Christ in the midst of challenging times is why St. Andrew's continues to draw such a high number of young adults, single people, and families with young children.
While St. Andrew's embraces a traditional worship style, we also utilize technology as a means for connecting to one another. Through the pandemic, we discovered that live-streaming our services via YouTube became a popular way for college students who grew up in the church to engage in worship, in addition to members of the church who could not come in-person due to travel, military deployments, or health issues.

We are preparing for the church of the future, too, by keeping our young people in the faith community. As teenagers have increasingly busy and disconnected lives, the EYC, led by Harper Bathel, our Director of Children's and Youth Ministry, engages our 6-12 graders at a critical time in their physical, emotional, and spiritual development. Harper has established this group as a safe space to be supported, celebrated, and engaged within our St. Andrew's community and beyond. The teens participate in our annual Youth Sunday, planning and performing all of the leadership roles for that worship service. As the youth become young adults and transition to college and life away from St. Andrew's, it is evident that they take with them a solid faith foundation and an understanding that they have a supportive spiritual home to return to whenever needed. Our youth are truly the future of this church. Finding ways to provide a meaningful, engaging environment for their individual faith formation continues to be a priority for our parish and ensures our future vitality.

9. What is your practice of stewardship and how does it shape the life of your worshiping community?

The 2023 stewardship campaign at St. Andrew's is centered around the theme "One Body, One Spirit, One Hope." This theme echoes the words of the baptismal covenant, and serves as a reminder of our commitment to the fellowship of Christ, to seek and serve Christ in all persons, and to love our neighbors as ourselves. As we continue to re-imagine who we are as a body in a post-pandemic world, and as we search for a new rector, this call to unity, with hope, is foremost in our minds.

During the COVID-19 pandemic, annual giving to St. Andrew's remained strong–giving actually grew over 14% between 2019 and 2021. We give thanks as we enter this next chapter in the life of the church on very stable financial ground. Not only does annual giving continue to grow (our goal is 175 households pledging this year), but St. Andrew's is incredibly fortunate to have a significant endowment, helping ensure our church has a stable financial future.

St. Andrew's members give generously, not only of their money, but also their time and talent. The church boasts numerous opportunities for members and newcomers to engage in ministry in ways that match their gifts, spiritual needs, and time constraints. The culture at St. Andrew's is one where boundaries are respected—we understand that giving, whether financially or in-kind, should never be a source of stress or discord.

10. What is your worshiping community's experience of conflict? And how have you addressed it?

The community of St. Andrew's has had the good fortune of being relatively conflict-free in recent memory. However, on the few occasions where there have been divisions, the approach has been to seek to understand first with an open mind, and then to find resolution, if possible. Church leadership has historically been measured and careful, but also rooted in a strong sense of our shared faith as a worshiping congregation.

St. Andrew's is a church that is traditional in worship, but progressive in theology. For many members and newcomers, it has been a source of solace and relief to know that our clergy are unafraid to address the church's place in social justice issues. While much of the congregation desires this kind of engagement, not everyone does. On occasion, some parishioners have objected to certain issues being mentioned in a homily, believing it to be political in nature. In these moments, the clergy has always shown a willingness to listen and receive this feedback.

In 2020, following the murder of George Floyd in Minneapolis and the demonstrations that followed, St. Andrew's added a Black Lives Matter sign to the lawn outside the church office doors. A few parishioners took issue with this sign, worried that the black and white logo of the movement was too political. John Rohrs, our rector at the time, met with the parishioners, shared their concerns with the vestry, and together they worked to find an alternative sign that could address the parishioners' concerns without sacrificing the intention represented by the original sign. Ultimately, they found a new sign that grounded the message in scripture, while still communicating our solidarity with the BIPOC community.

As we face our current transition, we are particularly sensitive to the possibility of conflict. The departure of our previous rector, John Rohrs, and our associate, Andie Rohrs, happened very quickly and was shocking to many in the congregation. The rector vacancy has stirred emotions from the previous transition, which many long-time members remember as a difficult time. The policy of the vestry and senior warden has been to maintain as much transparency as possible, at the risk of over-explaining. Uncertainty can breed fear and rumors, so we have tried to provide updates on the process with regular correspondence, announcements, and appropriate opportunities for parishioners to share their thoughts, hopes, and concerns. Through the uncertainty, the common goal is to call a rector who will continue St. Andrew's legacy. With open hearts and minds, along with clear and regular communications, we believe St. Andrew's will weather this transition and emerge from the process stronger and united.

11. What is your experience leading/addressing change in the church? When has it gone well? When has it gone poorly? And what did you learn?

One of the hardest things to do in a church is to change a long-standing tradition that doesn't quite work for the community anymore. For St. Andrew's, this tradition was the All Saint's Flower Festival. At its apex, the Flower Festival was a five-day event with magnificent flower displays, a gala, a fashion show, a luncheon, and more. It was extraordinary, but it also took an extraordinary amount of time and effort to pull off each year. It also required the preschool that uses the building during the week to close, and it ran volunteers into the ground.

But saying goodbye was hard for those who truly loved the festival, even if it had become an unsustainable tradition. In order to change in a healthy way, it was necessary to understand the essence of the festival that people most appreciated. It came down to three key elements: the celebration and memorial spirit of All Saints Day, giving glory to God through the beauty of the natural world, and perhaps most importantly: fellowship. These three threads became the guiding principles as the church worked to pare down an exhausting five-day marathon to a manageable weekend of celebrations. Our All Saints celebration continues to evolve and grow, and we look forward to seeing what it will become as we re-imagine it in a post-pandemic world. The memories of the Flower Festival in all its grandeur remain a part of the St. Andrew's tapestry, but the parish has found a way to adjust to the changing times and the changing community of our church family.

12. Please provide words describing the gifts and skills essential to the future leaders of your worshiping community.

The parish of St. Andrew's is seeking a devoted spiritual guide, who is open, accessible, honest, and humble. We wish to find a candidate who excels in communicating the Word of God and drawing out its relevance to our daily lives and place in the world.
We are looking for a leader with strong interpersonal skills, who can provide pastoral care, particularly in times of challenge and crisis. Our next rector will be someone who will take the time to get to know each of us, and has a special heart for our long-time members, who have loved and supported this church for decades.

As is always the case, the next rector is entering into a community of well-established relationships. We are seeking a candidate who has the humility to ask questions before assuming they understand what is best for the parish or individuals when providing pastoral care. Our next rector should come with a plan for how they will begin to build relationships and trust.

We are seeking a rector who has a passion for expanding family ministry. St. Andrew's is a multi-generational church that values the vibrancy and life that children bring to our community. Our next rector will value this too, and will work closely with our full-time director for youth and family ministries to keep this good work going.

The next rector at St. Andrew's should have a strong background in social justice issues, with a particular interest in expanding racial reconciliation efforts in our neighborhood, the city, and the world at large. Any future rector of St. Andrew's will need to have a sensitivity to the unique challenges of being a church in the South, where neighborhoods and churches still remain quietly segregated, and should have a passion for building bridges within the community.

Our next rector will be a competent, thoughtful, organized head of staff, encouraging paid staff and lay leaders alike to grow and expand their gifts for the glory of God's kingdom.

And finally, but of equal importance, our next rector absolutely must have a sense of humor!